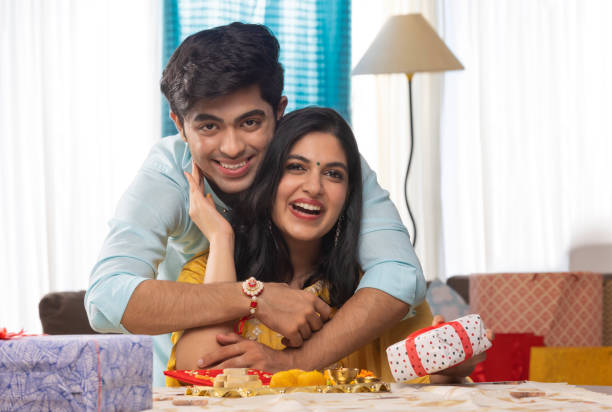 Celebrated with great enthusiasm and joy, Raksha Bandhan is a festival that symbolizes the beautiful bond between a brother and a sister. As the festival approaches, it is common to find yourself in a situation where time slips through your fingers. However, fret not! In this article, We present to you a list of last-minute Rakhi gift for your sister in 2023 that will surely bring smile and happiness to her face.
1. Personalized Gifts to Cherish:
A unique way to express your love and thoughtfulness is by gifting your sister something personalized. Consider custom-made photo frames, coffee mugs, or keychains that feature both of your pictures together. These gifts will not only bring back cherished memories but also make your sister feel special.
2. Subscription Boxes for Surprise:
With subscription boxes gaining popularity, why not surprise your sister with a monthly subscription tailored to her interests? Whether it's makeup, books, or gourmet snacks, there are numerous options to choose from. This gift will keep reminding her of your love long after Raksha Bandhan.
3. Handmade Cards with Love:
In a world of digital connections, the charm of a handwritten message still holds its ground. Tap into your creative side and make a heartfelt card for your sister. Pour your love, memories, and appreciation onto the paper, making it a gift she will always treasure.
4. Gift Cards for Her Desires:
Time may be scarce, but that shouldn't hinder you from giving your sister the freedom to choose her own gift. Present her with a gift card from her favorite store or an online platform. This way, she can choose something that she truly desires, ensuring a smile on her face.
5. Fragrant Flowers for Happiness:
Flowers have an undeniable power to brighten up one's day. Visit a local florist or order a bouquet online to surprise your sister with her favorite flowers. Accompany the flowers with a heartfelt note expressing your love, and you have a simple yet meaningful gift ready.
6. Spa or Massage Vouchers:
Give your sister the gift of relaxation and pampering by gifting her a voucher for a spa or a massage session. This thoughtful gift will allow her to unwind and rejuvenate, making her feel loved and cherished on this special day.
7. Jewelry for Elegance:
Nothing spells elegance more than a piece of jewelry gifted with love. Choose a beautiful necklace, bracelet, or pair of earrings that matches your sister's taste and personality. Every time she wears it, she will be reminded of the wonderful bond you share.
8. Fashionable Accessories:
If your sister is someone who enjoys keeping up with the latest trends, surprise her with fashionable accessories. It can be a stylish handbag, sunglasses, a trendy scarf, or a statement piece of jewelry. Your gift will make her feel fashionable and loved.
9. Personalized Playlist:
Music has the magical ability to evoke emotions and create lasting memories. Create a personalized playlist for your sister, filled with songs that hold significance in your relationship. Each time she listens to the playlist, she will be reminded of the beautiful moments you've shared together.
10. Book Lovers' Paradise:
If your sister is an avid reader, you can never go wrong with a gift from the world of books. Purchase a book from her favorite genre or give her a subscription to an audiobook platform. This gift will feed her love for literature and provide endless hours of joy.
11. A Day Out Together:
Sometimes, the best gift is not a material possession but quality time spent together. Plan a day out with your sister, engaging in activities that she enjoys. It can be a picnic in the park, a visit to a museum, or a shopping spree. The memories created on this day will be cherished forever.
12. Online Experiences:
With the advancement of technology, numerous online experiences have emerged. Surprise your sister with a virtual cooking class, a painting workshop, or a fitness session she can enjoy from the comfort of her home. This gift will show your efforts to keep her entertained and engaged.
13. Gift of Health and Wellness:
Show your concern for your sister's wellbeing by presenting her with a fitness tracker, a yoga mat, or a gym membership. This gesture of promoting a healthy lifestyle will not only make her feel special but also support her overall well-being.
14. Hobby-Based Gifts:
Consider your sister's interests and hobbies when searching for the perfect gift. If she loves painting, gift her a set of high-quality brushes and paints. If she enjoys cooking, surprise her with the latest kitchen gadgets. Your thoughtful consideration will make her feel understood and cared for.
15. Timeless Watch:
A classic and timeless gift that signifies your love and appreciation is a beautiful watch. Choose a timepiece that matches her style and personality. Every time she glances at her wrist, she will be reminded of the affection you have for her.
Also Read: Guest posting sites
Conclusion:
Raksha Bandhan is a festival dedicated to celebrating the bond between siblings, specifically the love of a brother towards his sister. Even if you find yourself short of time, there are numerous last-minute rakhi gift options that can make your sister feel cherished and loved. The key lies in understanding her preferences, showing thoughtfulness, and embracing the spirit of Raksha Bandhan.