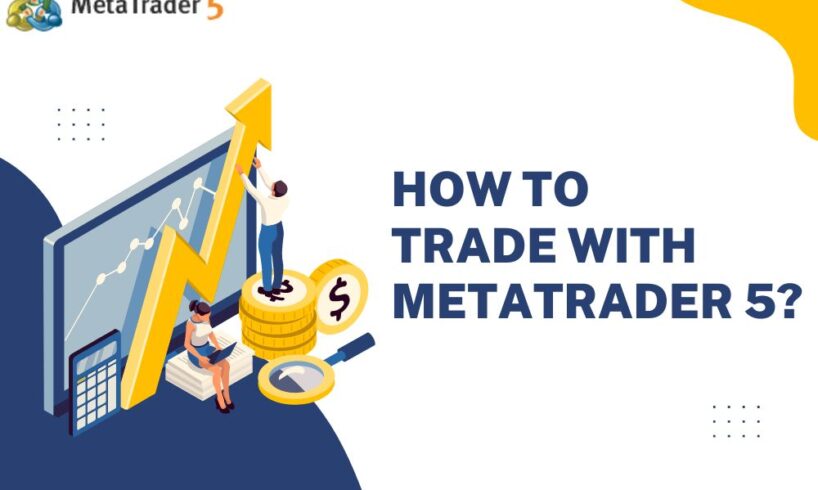 Are you new to the trading world? And are you worried about how to trade with Meta Trader 5? 
Fear not! MT5 is built with accessibility in mind, making it a breeze for beginners to embark on their trading journey from scratch. From installation to setting up your first trade, we've got you covered with a step-by-step guide that ensures a smooth introduction to this dynamic platform.
Developed by Meta Quotes Software Corp., MT5 is the next-generation successor to the renowned Meta Trader 4, boasting a plethora of innovative features and expanded capabilities.
Originally introduced in 2010, Meta Trader 5 has rapidly become a top choice among seasoned traders and newcomers alike. Versatility is its hallmark, offering a wide array of asset classes, including cryptocurrencies, to cater to the modern trader's diverse needs.
Difference between MT4 and MT5
It is essential to recognise that these two platforms coexist independently, each with its own set of unique attributes.
Tradable Assets
One of the significant distinctions lies in their scope of tradable assets. MT5 takes the lead as a multi-asset platform, encompassing Forex and a diverse range of financial markets, including stocks, indices, commodities, precious metals, and even cryptocurrencies through CFDs. In contrast, MT4 primarily caters to Forex traders, albeit offering some CFDs as well.
Functionality
Delving into the trading functionalities, MT5 outshines MT4 with a broader spectrum of technical indicators, graphical objects, and timeframes. With 38 technical indicators and 44 graphical objects at your disposal, MT5 provides a more comprehensive toolkit for in-depth market analysis compared to MT4's 30 indicators and 31 graphical objects. 
Timeframes
Moreover, MT5 boasts an impressive 21 timeframes, significantly expanding options for traders seeking meticulous asset evaluation, while MT4 offers only 9 timeframes.
Economic Calendar
An essential feature unique to MT5 is its built-in Economic Calendar, enabling traders to stay abreast of crucial financial announcements and predict potential price movements. This invaluable resource is absent in MT4, which relies on third-party calendars for such insights.
Order System
Additionally, MT5 presents a more versatile order system, incorporating six types of pending orders, whereas MT4 offers four. This added flexibility enhances traders' precision in executing their strategies.
MT4 or MT5: It's All About Your Needs and Choice
The choice between MT4 and MT5 is subjective and relies on individual preferences and trading needs. MT4, with its simple and user-friendly interface, it is an ideal preference for beginners. In contrast, MT5, with its expanded capabilities, attracts forex traders who are looking to diversify their portfolio across multiple asset classes, harnessing an extensive array of technical tools.
Regardless of your choice, partnering with a reputable broker like FBS is crucial to ensure a seamless trading experience.
Process to Trade on Meta Trader 5?
To unleash its full potential, follow these key steps and make the most of its remarkable features:
Education
Understanding the platform's capabilities is vital with seven asset class types, an array of trading tools, indicators, and graphical objects, six different order types, automated strategies, and market depth. Take advantage of the free educational materials provided by Modmount, offering informative eBooks and videos exclusively dedicated to the MT5 trading platform.
MetaTrader5 Download and Install
Ensure your device meets the minimum system requirements for installing AvaTrade MT5. Windows 7 or higher (64-bit system recommended) and a Pentium 4/Athlon 64 processor are essential for PC users. Download the AvaTrade MT5 by clicking the designated link and running the ava5setup.exe file. Access the platform using your real account login information or create a new demo account directly from the platform to begin exploring its potential.
Place Your Order
Once you've logged into AvaTrade MT5, it's time to trade your favourite assets. Several methods allow you to place orders conveniently. You can use the "New Order" option under the "Tools" menu, double-click on the asset in the Market Watch window, right-click on the Trade tab in the lower terminal, or employ one-click trading by pressing F9 on the chart of your chosen asset.
The Order Screen will display the tick chart on the left, presenting the bid and asking prices for real-time spreads. 
Order Details
On the right, you'll find customisable order details, including:
Symbol: The asset you wish to trade, such as EURUSD.

Order Type: Choose between Market Execution and Pending Execution.

Volume: The quantity (in lot sizes) for your trade.

Stop Loss and Take Profit: Set levels to manage risk and secure profits.

Comment: Add notes for better trade documentation.
Meta Trader 5 Windows
Get ready to explore the MT5 terminal, where six windows provide an array of functionalities:
Main Menu: Switch between accounts, customize toolbars, add indicators and objects, and access the MT5 user guide.

Toolbar: Quick access to essential commands for chart and indicator management.

Charts: Displays price information and enables trading directly from the charts.

Market Watch: List of available trading instruments and their Bid and Ask prices.

Navigator: Swift access to Live and Demo accounts, indicators, Expert Advisors, scripts, market, signals, and VPS.

Terminal: Manage trade positions, view news, calendar, account history, and alerts.
Conclusion
Trading with Meta Trader 5 opens up a world of possibilities for traders of all levels. With its versatile multi-asset platform, advanced trading functionalities, and comprehensive educational resources, MT5 empowers traders to navigate the financial markets with precision and confidence.
Remember to choose a reputable broker like Vault Markets to maximize your trading experience fully. With MT5, you're equipped to conquer the markets and embark on a successful trading journey filled with opportunities for growth and prosperity. So, dive in, explore, and let Meta Trader 5 lead you to trade greatness!